Oil Burner Service Long Island by Discount Fuel Inc.
Emergency & Non-Emergency Oil Burner Service and Repair
Same day repair appointments available
Call us 24 hours a day, seven days week. We answer on weekends and holidays. Discount Fuel Inc. service technicians are on call 24/7 for oil burner emergencies. Nassau County, Suffolk County, and Queens: we have a location near you. Every technician on our service team offers years of oil heating experience. We can handle every type of oil burner service issue.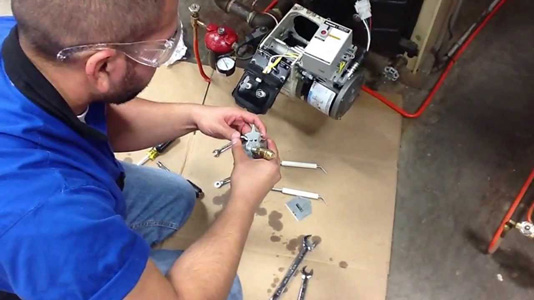 Annual Oil Burner Service: Tune-up & Vac
Inspect Oil Burner Unit & Wiring
Brush, Vacuum & Clean
Replace filter & nozzle
Clean/Replace Strainer
Readjust settings for maximum efficiency
Test run operations for next season
Prevent future problems with your oil burner by scheduling a tune-up every year. Discount Fuel Inc. will identify and correct oil burner issues and will help you achieve the highest efficiency for the coldest months of the year.
Call Discount Fuel Inc. 24/7, Day or Night, In Case of Emergency
Keeping your family warm this winter season will make it crucial to take care of your oil burner. Your annual oil burner service may not prevent issues in the middle of winter. In case of a mid-winter oil burner emergency, you'll need an emergency oil burner service from Long Island. While some problems are straightforward, others are complex. Whether you ran out of oil or have no hot water, we can fix any problem in a timely manner.
Unfamiliar sounds is the #1 oil burner problem. When an oil burner is malfunctioning, you may hear squealing, knocking, or rattling, in which case, something is not right.
Oil Burner Noises? Common Reasons:
Air in the Line
Blocked Air
Loose Access Panels
Pilot Light Needs to be Reset
Poor Belt Tension
Motor Bearing Problems
Oil Burner Needs Cleaning
Troubleshooting & Solutions for Your Oil Furnace
Knocking Noise: air in the lines. A technician needs to bleed the lines. Please contact us.
Whistling: problem with the filter OR accumulation of dust and dirt. Consider replacing the filter instead of cleaning the filter. We advise customers to replace the filter every three months. Air could be blocked in the oil burner.
High-Pitched, Squealing, Screeching: blower motor or belt issue. Belt slipping is a common problem. Tightening the belt tension will resolve this issue. Please call us to inspect the belt for fraying or wearing out.
Grinding Noise: motor bearings. Please shut down oil burner for safety's sake. And please call us to repair your oil burner.
Irregular Noises When Turning On & Off: air filter OR oil supply. If both the air filter and oil supply are in good shape, please call Discount Fuel Oil to correct the issue causing the noise.
24 Hour Emergency Oil Burner Service & Repair: Long Island
SERVICE CALL CANCELLATION POLICY
IMPORTANT: IF YOU NEED TO CANCEL, PLEASE CANCEL 24 HOURS IN ADVANCE OF YOUR SCHEDULED APPOINTMENT!
Discount Fuel Inc. cannot cancel an appointment less than 24 hours before your appointment.
If less than 24 hours remain to your appointment, you will be charged the full service rate for the technician's time and expense.
We are unable to cancel appointments when a technician is on his way to your appointment.
If you use our services, then you agree to the terms outlined on this page. Overdue accounts will be forwarded to a collection service.